21 Ingenious DIY Ideas For Modern Bedroom Design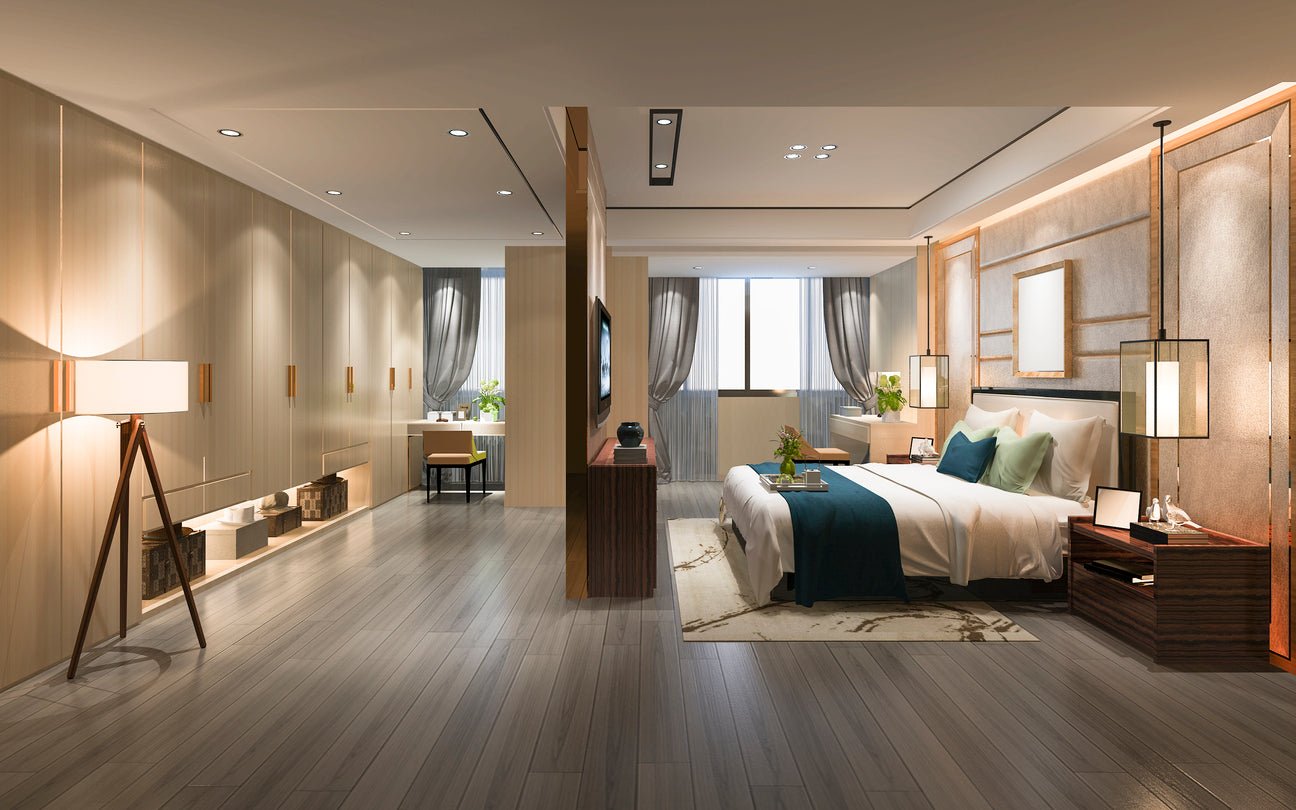 21 Ingenious DIY Ideas For Modern Bedroom Design
For creating that perfect modern bedroom design in your own home, these 21 ingenious ideas might help get you started.
Divide
If you are lacking rooms - for example, you have a bedroom that shares a space with your study - try using a curtain, which can be open to create one room or drawn to divide the space into a bedroom and a study. Glass brick walls work well for dividing a living, working or sleeping space.
If space is tight, try an old-fashioned folding room screen to divide it. This Three-Panel Optical Illusion Divider is highly unusual and creates the idea of more space with its mirrored design.
One item can do two jobs
Buy furniture that does the job of two items. This Floor Lamp would be a beautiful nightstand, providing gorgeous walnut wood-finish shelving and boasting two USB ports.
Think cleverly about your space
Let a stool act as a bedroom nightstand or have an accent chair do the job.
If your desk is taking up too much room in your bedroom and you also have a wall-mounted bookcase, consider merging them and putting the desk into the shelves with a pull-out or pull-down work surface.
Repurpose
Create a beautiful stained glass window effect with collected vintage and antique-colored glass bottles displayed across a window ledge, letting the sunshine filter the light into the bedroom.
Use old photographs or your craftwork, carefully framed, to curate a gallery space, adding a real wow factor to a room to create a feature wall instead of a headboard.
Use every space
Try building storage in unusual places - for example, around a headboard or above the doorway - or consider losing the headboard completely for extra space.
Repurpose enameled buckets or kitchen cooking pots into an alternative to a wall-mounted nightstand or use as houseplant holders. These gorgeous Multi-Functional Wall Buckets fit the bill perfectly.
If you are good with a sewing machine, turn upcycled vintage tablecloths, flour bags, or old French lace napkins into a cushion for a bedroom chair for an authentic and unique touch.
Raise your bed and create storage underneath to keep the walls clutter-free.
Save precious space by losing doors and replacing them with drapes.
Be imaginative
Intentionally select furniture that creates the look you are going for. Mid-century modern design furniture works well for a contemporary look.
Pick a large statement light fitting to add a design focal point to your bedroom.
Soften the look of hard white walls with sheer or soft, natural fabric drapes, or try adding wooden furniture for a warming effect.
Adding mirrors to your bedroom walls to increase the amount of light reflected around a bedroom gives the impression of a more spacious interior.
Consider where you hang your blinds and drapes. Save space by hanging them inside the window recess or set them above the window level to give the illusion of higher ceilings.
Use color to lead your eye around your bedroom. Painting it all one color reads as a larger single space, whereas breaking it up with multiple colors reads as different areas. Create accents using contrasting or complementing colors to create a focal point.
To divide up a studio apartment interior, try using white on walls and ceilings to maximize light levels, but use different textures on the floor to create "rooms". For example, use a large rug for a living area and bare flooring in the kitchen area.
Use color to create a personal look by creating a color scheme using light and pastel tones to give the feeling of light and space. Try darker colors on a ceiling, sometimes called the fifth wall, for a more intimate feel.
Choose to dress your bed in the highest thread count sheets you can afford for that smooth, luxurious feel.
Tchotchke has no place in modern bedroom design, so be sure to hide, gift, repurpose or recycle the clutter, as modern bedroom design needs clean lines to work best. Use online tools if you can to help you visualize and plan the changes you wish to make. Plan color schemes carefully using a professional online color palette tool before repainting to ensure that you'll be happy with your choices. Use a 3D visualization tool to help you plan any changes and arrangements of furniture you might want to make.
With these ideas in mind, you can make DIY solutions work for you in the home by creating truly unique spaces.